Personalised Plant Pots & Planters
Personalised Plant Pots & Planters
Are you searching for a one of a kind gift for your green-thumb loved one? Look no further! Our range of personalised planters are perfect for any occasion.
Personalised plant pots
No matter what season we are in, it's never too early or late to treat yourself or your loved one with our quality personalised plant pots.
5 Star personalised planters
Made from high quality wood and assembled manually by us, there is no surprise this is one of our best seller products.
With a large choice of options and sizes, our flower planters are not only made for any type of garden, but they are also very cost efficient.
So what are you waiting for? Free shipping for orders over £40!
---
Unique Personalised Planters: A Beautiful Keepsake for Your Garden
Indulge in the charm of unique gardening with our beautiful range of personalised planters. Each piece serves as a beautiful keepsake that elevates the aesthetic appeal of your garden or home. Crafted with an eye for rustic elegance, our planters offer a unique blend of functionality and personal sentiment. They are more than just plant holders; they are a tribute to your gardening passion, encapsulating memories and milestones with every leaf and bloom they cradle.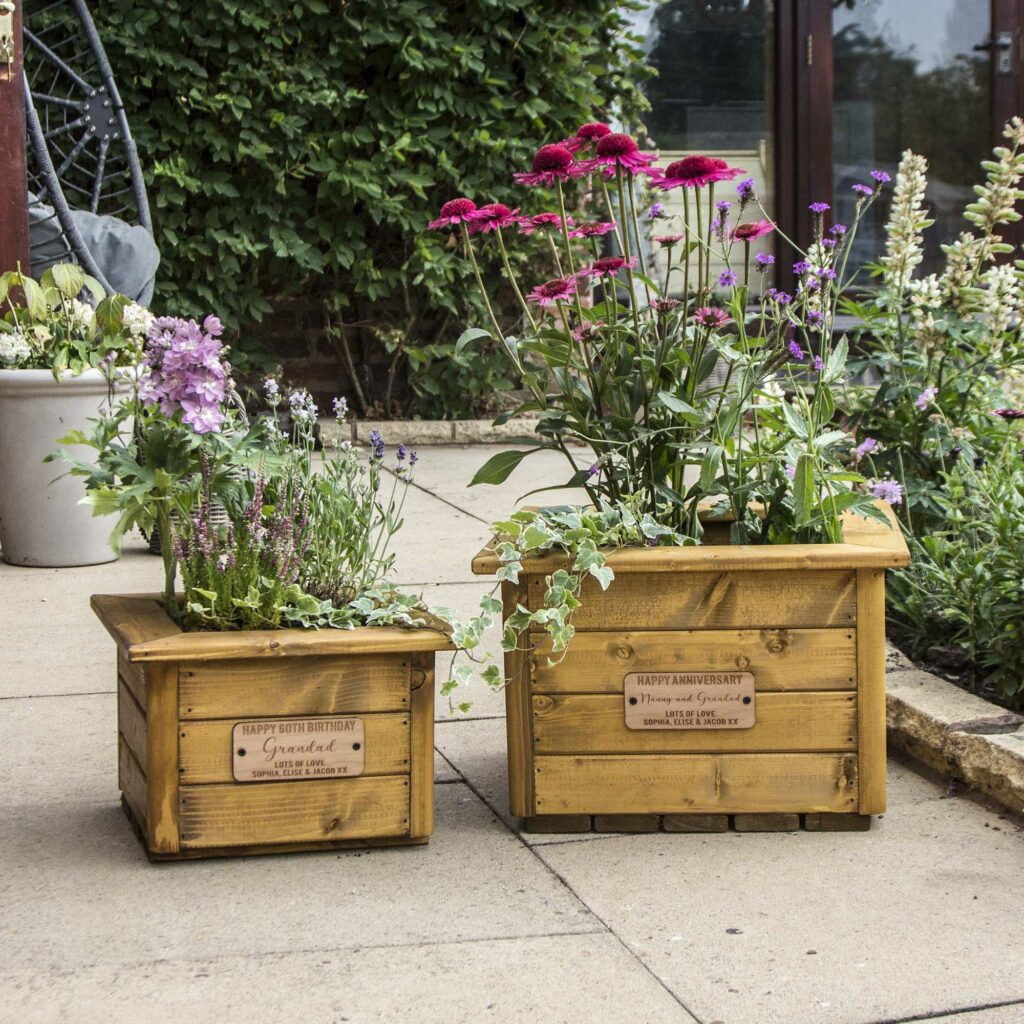 Explore Our Range of Personalised Plant Pots: Perfect Gifts for Every Gardener
Discover the joy of gifting or owning a unique item from our range of personalised plant pots and planters. Our collection has been meticulously curated to offer a wide variety of sizes and styles, catering to every green-fingered individual's taste and needs. Whether you are a seasoned gardener or someone who has recently found solace in the therapeutic act of gardening, our range of pots and planters is bound to have something that appeals to you.
Our personalised plant pots are not merely functional items but are a statement of personal style and a reflection of your love for gardening. The personalisation aspect allows you to have a name, a special date, or a meaningful message etched onto your chosen pot or planter, making it a treasured possession or a thoughtful gift.
At the heart of our collection is the desire to provide garden enthusiasts with products that are as beautiful as they are practical. Each item in our range is crafted with care, ensuring that it not only meets but exceeds the expectations of our discerning clientele.
We invite you to discover the distinctiveness of our range, explore the various sizes and styles, and find that perfect personalised plant pot that resonates with your green-fingered aspirations. Our pots and planters are more than just containers for your plants; they are a celebration of your gardening journey.
With every purchase, you are not just acquiring a beautiful and functional item, but also becoming a cherished member of our growing community of plant lovers. Our collection is continually expanding, with new and exciting designs that are sure to inspire and delight. So, delve into our range, pick a personalised plant pot that speaks to your heart, and let the joy of gardening continue to flourish.
Personalised Plant Pots From Terracotta, Ceramic & Wood
Our diverse range of personalised plant pots brings you a rich choice of materials including terracotta, ceramic, and wood. Each terracotta pot carries a timeless appeal, its earthy tones exuding a warm, natural vibe. The ceramic options provide a sleek look with a polished finish, ideal for modern and contemporary spaces. For those who lean towards a more natural or rustic aesthetic, our wooden plant pots are the perfect choice.
The different finishes and textures across our range ensure that there is something for every taste and every space. Whether you prefer the natural, breathable quality of a terracotta pot, the sturdy and elegant finish of ceramic, or the earthy, organic feel of wood, our collection has been curated to cater to your unique gardening style. Your plants will thrive in these lovingly crafted pots, and the personalisation adds a heartfelt touch to your green haven, making each planter a cherished item in your garden or home.
Personalised Flower Pots for Your Loved Ones' Special DaysIndoor or Outdoor
Celebrate the special days of your loved ones with our personalised flower pots. Whether it's a birthday, anniversary, or any special occasion, a personalised flower pot is a thoughtful gift that shows how much you care. Surprise your loved ones with a unique gift that they will cherish for years to come. 
Each time they glance at the beautiful blooms, they'll be reminded of your love and the special day they received such a memorable gift. The joy of seeing a plant grow and flourish in a personalised pot is indeed a gift that keeps on giving. Our personalised flower pots are more than just gifts; they are a tribute to the enduring nature of love and relationships, making every day a special day.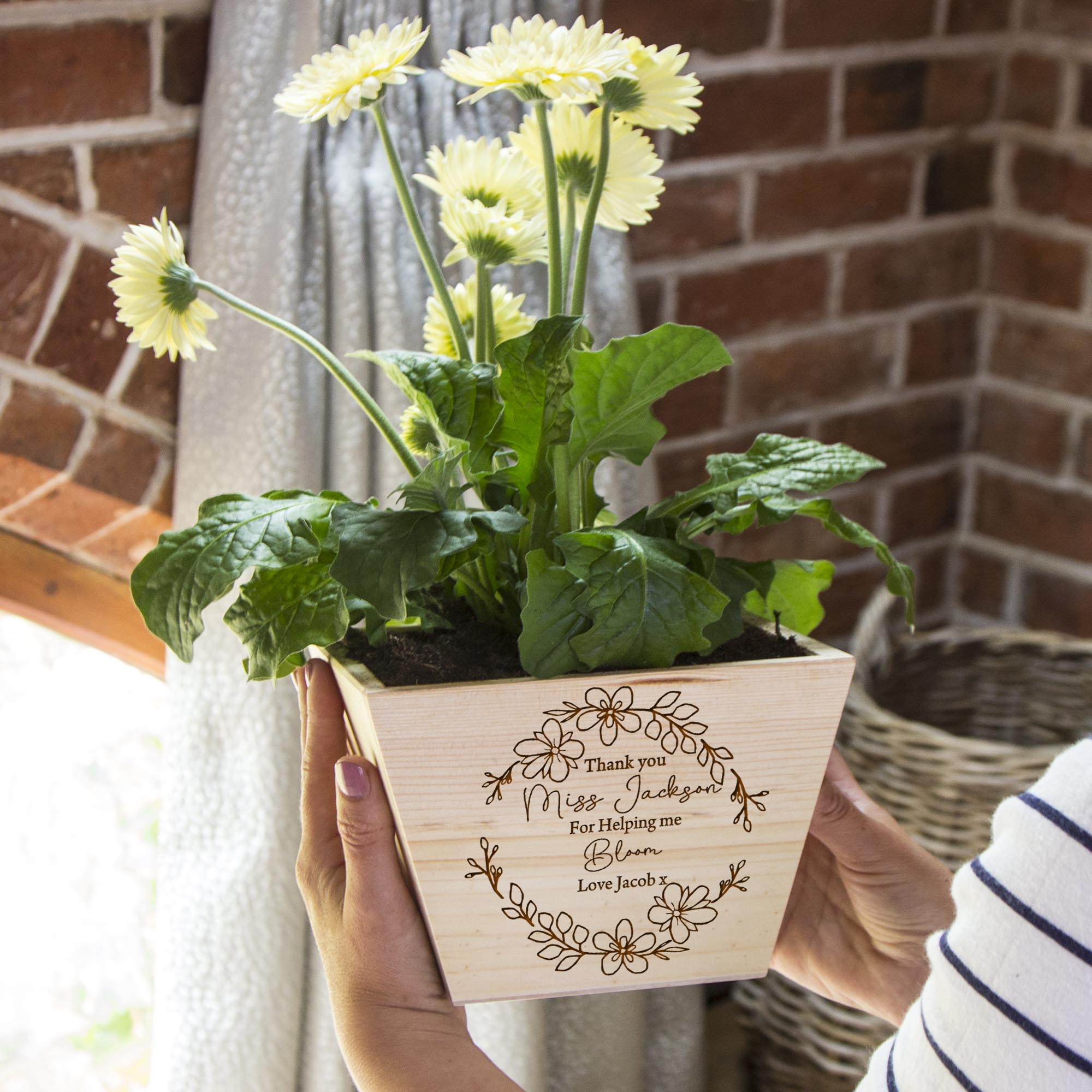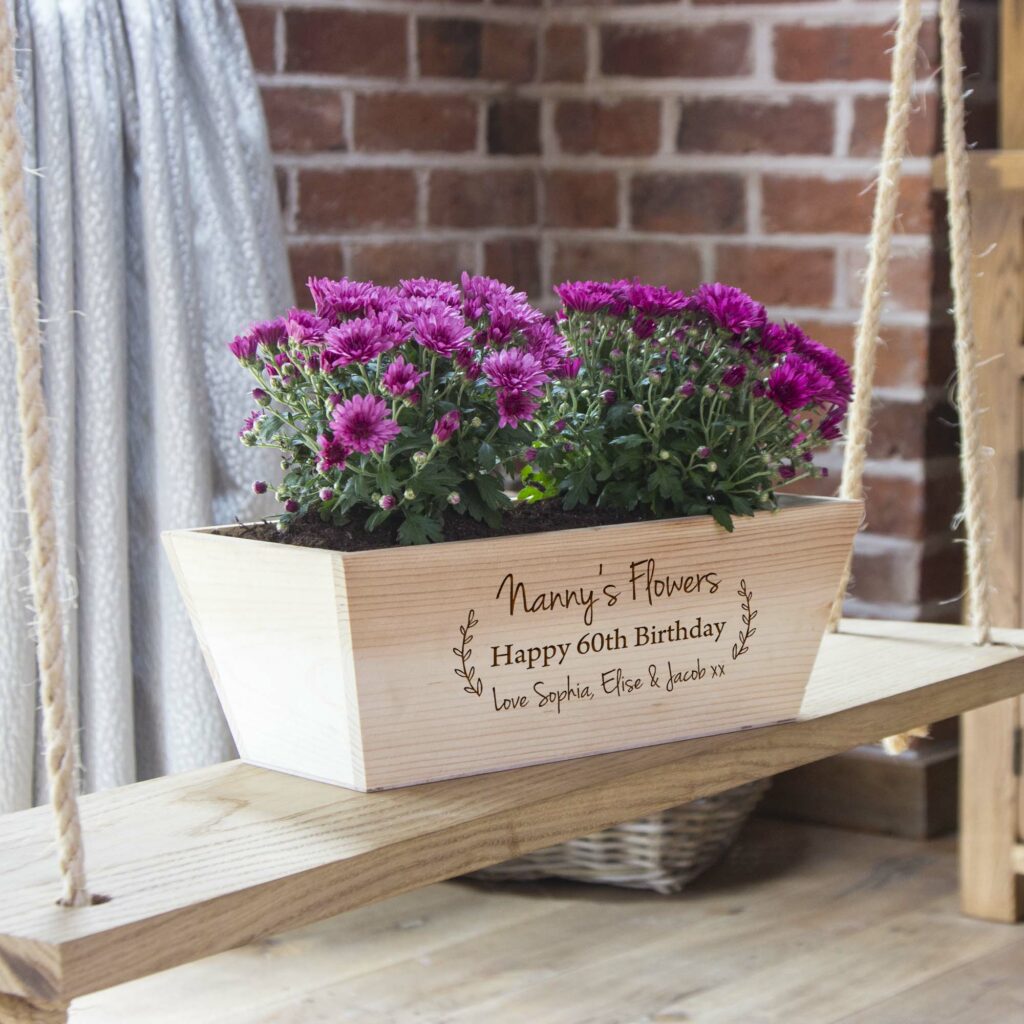 Personalised Planters for Every Corner of Your Home
Our range of personalised planters is meticulously designed to suit both indoor and outdoor plants, allowing you to grow and display your greenery in style. Whether you want to add a touch of nature to your indoor spaces or embellish your garden with beautiful outdoor plants, our plant pots are the perfect option.
The diverse collection includes round, square, and other creatively shaped pots and flower planters that blend seamlessly with your home décor, enhancing the beauty of every corner of your home. The personalisation option allows you to add a unique touch, making each planter a special part of your home or garden.
Your plants deserve a beautiful home, and what better way to display them than in a personalised planter that reflects your style? Whether placed indoors or outdoors, our planters provide a loving abode for your plants to thrive and beautify your surroundings. 
The elegance of our plant pots coupled with the personal touch of a name, date, or message makes them a cherished part of your garden or home décor. So, explore our range and find the perfect personalised planter that resonates with your taste and adds a touch of charm to your indoor or outdoor spaces.