A baby's first christmas is one of the most significant memories parents will every have and it needs to be cherished. Whether you're looking to buy a special Christmas gift for your own baby or a baby of a friend, you're in the right place.
In the short guide below, we provide some creative and unique gift ideas and some additional information to help you along the way. From personalised presents to stocking fillers, you'll find everything you need to know below.
What Are the Best Gifts for a Baby's First Christmas?
Baby's first christmas gifts don't fit into any specific category. If you're a parent yourself, you probably already know that there are many things you could consider buying a baby as a gift. Some of the most popular ideas include Christmas outfits and special decorations for the Christmas tree.
However, if you're looking for the BEST gift ideas for a baby boy or girl, we always recommend something personal.
One of the easiest ways to personalise a gift for a baby is to put their name on the gift itself. Of course, this isn't possible for every gift but in the case of decorative ornaments, cute wooden toys, and clothing it certainly is!
Which Toys Are Suitable for a First Christmas Gift?
If you're browsing gifts that fall into the toy category, it is always important to put health and safety first. A little one around the age of one is likely to want to put their toys in their mouth! Therefore, being wary of choking hazards for babies is especially important.
Suitable toys that you can buy from our product shop include wooden vehicles, dolls and accessories, as well as musical instruments as some examples of amazing options that can be personalised.
Are Personalised Gifts a Good Idea for a Baby's First Christmas?
Yes! As mentioned above we really think that personalised gifts are the best type of gift for a first Christmas. There are so many lovely toys that can be engraved with the baby's name for a unique touch.
Other personalised gift ideas could include hands and footprints for the baby to keep when they're older and lovely ornamental pieces. All of these gifts are sure to be kept safe by parents over the year, and when the baby is old enough, they can discover their special baby memories through the gifts they received.
How Can I Add an Extra Special Touch to a Gift for a First Christmas Occasion?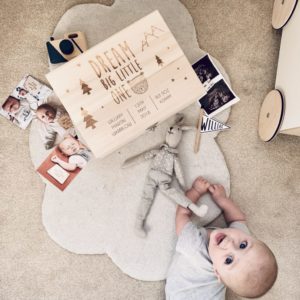 If you're hoping to give a baby a memorable first Christmas gift, personalised gifts will do just this. Whilst clothing is a good option for personalised gifting, often babies outgrow their clothes really quickly.
Therefore, toys are a far better option and can actually engage a baby through cognitive and physical development. You can discover our range of suitable baby toys that can be personalised under toys suitable for 0-18 months.
Just remember to check whether the toy is suitable for the baby before going ahead and buying the gift that you have in mind. Online shops will always state what age range a child's toy is suitable for but if in doubt be sure to contact them prior to buying.
What Gift Sets Might Be Good For A Baby?
Gift sets aren't generally given to babies but if you do decide to go down this route, you could design your own.
All you need is a nice basket or bag, some decorative tissue paper, and the gifts that you'd like to include. This could be a range of soft toys or safe wooden toys, an item of clothing such as cute Santa socks, and some little stocking fillers such as snacks for a baby.
If the gift set is for a baby that belongs to another family, you can also the parents what they need for their baby. They may be in need of some new products for bathing their little one such as soothing cream.
In asking these questions, you'll also be making sure that the gift is super personalised rather than going out and shopping for generic presents. The family who you are creating the personalised gift for will always be very grateful!
10 Beautiful Christmas Gifts For A Baby's First Christmas
Now that we've come to the end of our guide, we've included some of the best gift sets and toys from our personalised collection to consider for the baby you're buying a Christmas gift for.
If you wish to commemorate a baby's first experience of Christmas, all you need to do is follow some of the wonderful gift ideas below.
Our collections and range of wonderful gifts for a baby are all fantastic ideas and we've been sure to include options for every budget. No matter how much you spend, the thought is what always counts.
There are many great ideas below and shopping online doesn't need to limit what is possible, as you'll come to see.