It's easy to see why so many people love their gardens and want to be involved in their own gardening. From the positive benefits outdoors have on your mental health to the relaxation planting new seeds brings, there are many reasons why more and more people are turning green-fingered.
If you know a woman obsessed with their garden and you're looking for ideas for birthday gifts or Christmas presents, we're here to help. Whether buying for your mother, sister, grandmother, or friend, we've gathered some helpful advice and some beautiful personalised gardening gift ideas.
Let's grab our trowels and discover what wonderful garden gifts are out there! You may just be surprised at the wonderful things your money can buy.
Finding unique gardening gifts: what to look for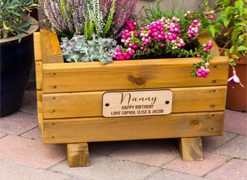 Finding a unique gift for any garden fanatic can be tricky. However, it's not impossible! Despite the obvious practical gift ideas like new tools, there is actually a whole category of personalized gardening gifts that you can explore for her.
Many women love getting out into their own gardens during their free time but probably aren't gifted gardening-themed presents often. Now is your opportunity to really show that you care about the special lady's hobbies and that you take notice of what is meaningful to her!
To find a really personalised gift for a garden lover, we recommend checking out our range of wonderful garden gifts. You'll find many amazing options varying from decorative garden ornaments to personalised planters for your loved one to grow their favourite flowers.
There are so many gardening accessories out there that it can be difficult to know which ones are best for gardening. We always advise that you review a brand's reputation carefully before buying tools such as a weed fork and that you take other buyers' reviews and experiences into consideration.
In doing so, you'll avoid the bad 'weeds' of the garden gifts and can be assured that what you have bought is high-quality and made to last for gardening.
Are gardening gifts always expensive to buy?
No, gardening gifts don't have to be very expensive. Of course, if you're buying a garden tool that is complex in nature, you can expect to pay more cash. However, we ensure that all of our personalised gifts for any female garden fan range in price so that you can choose something affordable.
Gifts don't always need to cost hundreds of pounds, especially not in the case of personalised gifts. For example, you could get a personalised bird feeder for under £30 and enhance the environment of a garden at a price that you can afford!
On what occasion are personalised gardening gifts suitable?
On almost every occasion you could think to buy a personalised garden gift.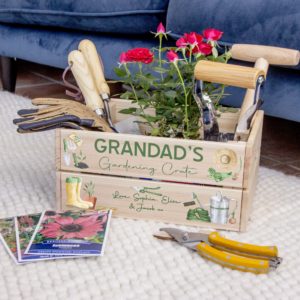 Whether looking for birthday gifts or Valentine's gifts, we recommend making sure that your gardening gift has a personal touch for her.
In the winter time when gardening is less of a common activity could be deemed the least suitable time of the year for these types of gifts. But, with this said, people still appreciate gardening gifts knowing that they can use them again when the time and weather are right.
What is the perfect gift for someone who is green-fingered?
If the lady you're looking to buy a gift for has green fingers, you'll be happy to know that there are so many great ideas to choose from. One of our personal favourites is a personalised planter in which the person can decide what to grow themselves.
Buying a personalised planter along with some seeds you know that the person is eager to grow is an excellent and cheap idea. We also stock lots of gifts that are suitable as garden decor ideas too. Why not check out our collection of lovely personalised gardener gifts to see what is available for her?
What personalised gift should I give a garden lover on Christmas?
There are no rules as to what personalised gardening gifts you should give on Christmas. The only thing to consider is that at Christmas, most people are willing to spend more money. So, if your budget allows, you could really find a gift that is extra special.
We love any sort of ornamental garden gift that can be personalised such as our wooden hand-carved 0wls. Other ideas could include tools such as personalised trowels which can be wrapped up nicely and presented as a thoughtful gift to her.
More Inspiration For Gardening gifts
If you're still wondering what gardeners' gifts are out there specifically for her, we've included extra inspiration below.
You'll find some excellent products that would make thoughtful gifts for the special lady in your life and you may even save money too by shopping on our site.
We make sure to include gardener gift options that are affordable and don't compromise on quality. From boxes for growing garden herbs to tools to encourage a gardening hobby, here are our top recommendations: