Once a year, millions of adults and children in the U.K. celebrate the long-standing tradition that is Halloween. The spooky season brings about bundles of creative energy as we get busy making scary costumes, decorating our homes, and carving pumpkins into masterpieces!
Whether you're looking to find the best Halloween gifts to give to friends and family or a loved one's birthday falls on Halloween, you're in the perfect place.
In this guide, we've gathered the best Halloween presents we could get our witch finger's on to provide you with lots of fantastic personalised gift ideas.
So, with this said let's dive in and explore the wonderful world of personalised Halloween presents.
The Wonder that is Personalised Halloween Gifts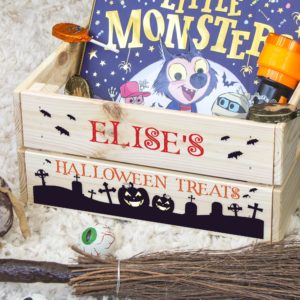 Anyone can bring a bottle of wine or cake to a spooky-themed occasion but we think Halloween is a great opportunity to impress with something really unique!
Personalised gifts are a great way to do this as the party host will see the effort and thought you've put in to find them a perfect present. From creepy accessories to a basket of Halloween treats or even a bag for a child to take with them trick-or-treating, the ideas are endless.
Some of our most popular Halloween presents include a Halloween gift box, personalised plaques and signs, or anything from our 'gifts for home' section of our online shop which is full of spooky surprises.
What is a Personalised Halloween Gift?
If you've never given a gift on Halloween before, you're likely wondering what on earth a personalised Halloween gift is. Put simply, it is a gift that is made personal to the person you are giving it to. This could mean it has their name on it or that it's a fun experience you know they'll love for sure, for example.
The person you're buying a gift for is guaranteed to love what you choose when it has that extra customised or personal element. During the spooky season, there are many ways in which you can incorporate personalised gift buying.
There is never a 'right' answer to the question above since everybody has their own ideas of what makes the best gift. All you can do is try your best to understand what somebody would like and appreciate most.
From personalised trick-or-treat bags for little ones to a Halloween holiday wooden plaque for a home, there are lots of great options to choose from no matter the budget you have!
What Makes The "Best Halloween Gifts"?
Anything that can be used as home decor or worn on the day as part of a costume makes the best and most fun presents. For example, pumpkin string lights with the party host's name on them are a wonderfully practical and personalised gift.
When it comes to choosing the best Halloween gift, whether shopping online or in-store, it comes down to who you are buying a present for. If you're looking for a present for a kid, they'll likely appreciate something with a traditional Halloween theme. Many kids are obsessed with small toys that they can use as decorations in their room. You may be able to find their favourite spooky character and buy a small toy version of it.
Another cute Halloween gift idea but for an adult could be a bouquet of spooky, seasonal flowers for their house. This could be a great additional decoration for the themed Halloween occasion too!
How Do I Choose a Halloween Gift for My Friends or Family?
If you're thinking of buying a personalised Halloween gift for a friend or family member but don't know how to choose, allow us to help!
We recommend getting as much information about the person as possible to ensure it's a surprise that they will love.
Ask other people what they think the person would appreciate and think about the information they've provided in conversations in the past. Perhaps the person or child has spoken of how much they are cat lovers. You could use this fact as a way to choose a really great Halloween gift for the festive occasion.
If you know they will not like creepy presents, opt for something a bit more traditional. You could shop for a wow-factor personalised cake, Halloween cookies, or an adorable plush pumpkin that you know a child will love to cuddle, no matter the time of year.
Halloween Party Gift Ideas Under £30
Whether buying for adults or kids, you can find some amazing presents for under £30 – no, this isn't a trick!
We've been sure to include something for everyone, from decor gifts to presents designed specifically for kids. £30 is a great price budget to have for gift buying as it's enough to ensure that the present you get can be personalised.
Below, we've listed some of our favourite Halloween presents both creepy and sweet that you can grab at a bargain price: